Stay current on my projects.
Join my mailing list.
Connect by social media.
News
2018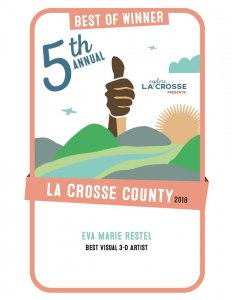 New York Shows
Wide Open 8 Art Opening
BWAC
Brooklyn, NY
Spring 2017
(Virtual) The Healing Power of Art: The Power of Inspiration
September 1 – November 1, 2017
More Info >>
Women's Fund of Greater La Crosse
Artist of the Year
Volunteering
Member, Rotary International
ARTSPIRE Chairperson 2013-2017
(Region's Largest Downtown Art Festival)
La Crosse Symphony Orchestra – Board Member 2014-2019
Follow Me on Social Media
Wall pieces from 1 to 5 feet tall.
Restel & Sons LLC added 10 new photos — at Restel & Sons LLC.
Location
227 Losey Blvd. N.
La Crosse, WI
Email
evamarie@restelandsons.com